---
As millions of people begin to participate in Global Entrepreneurship Week, a new report shows that the UK remains one of the top places for entrepreneurs to start and scale new businesses 
---
This morning at the official launch of GEW we revealed that the UK ranks in 8th place in a new global index of more than 130 startup ecosystems.
The 2017 Global Entrepreneurship Index (GEI), produced by Global Entrepreneurship Network and the Global Entrepreneurship Development Institute (GEDI), provides key information for policymakers and government leaders worldwide to strengthen their digital ecosystems and promote high-growth, high-impact entrepreneurship.
The UK's performance in the Index is important recognition of the hard work put in by the hundreds of organisations who work tirelessly to ensure that the UK's startup and SME sector continues to thrive.
This is important work.
SMEs make up 99.9% of all private sector businesses in the UK, employing 16 million people. And, despite perception the UK's entrepreneurs and business owners are not clustered in certain sectors. SMEs account for at least 99% of the businesses in every main industry. 
But it hasn't always been this way, over the past 15 years we have experienced an entrepreneurial renaissance in the UK - made possible by effective collaboration between policy makers and the UK enterprise community.
There are two million more small businesses in the UK now than in 2000 and there has been sustained year on year growth in the total business population. These things don't happen by accident, so these trends are worth celebrating.
---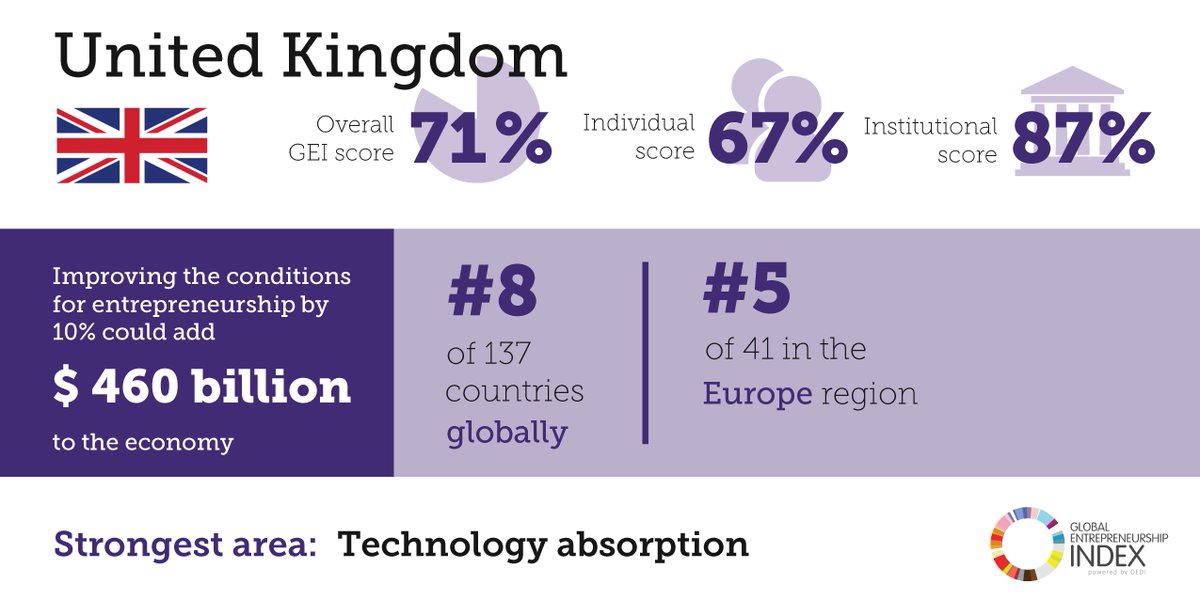 ---
Here at the Global Entrepreneurship Week campaign, over the past 10 years, we've been proud to act as a catalyst for this change, and a platform for celebration. But this year, talk to any UK small business and the conversation is focused on only one thing.
Uncertainty around our exit from the European Union has the potential to throw them into a tailspin and undo years of hard work. If Brexit damages our reputation as one of the best places in the world to start a business the consequences will be severe and far reaching. So these finding are especially timely and should come as a wake up call to government. 
The Index shows that despite our comparative strength globally - significant weakness and imbalances in our ecosystem are holding back growth.
In fact improving the conditions for entrepreneurs and startups in the UK still further could add £370 billion to the economy, according to the GEI.
As long as we focus on developing the enabling environment for small business and place innovation and connectivity at the centre of our new economic reality,Brexit need not be an inherently bad outcome for the UK's entrepreneurs. 
Commenting on the findings, Zoltan Acs of the LSE and GEDI commented that "in developed countries individuals need to be shaken up. Not enough people in developed countries—including the United Kingdom—are starting productive high-growth businesses."
This is where GEW and the Global Entreprenuership Network come in. Issues like digital connectivity, tax regime, low costs of start-up entry, accessible technology and a flexible economy or of course significant but they don't tell the whole story.
Our shared positive attitude towards self-starters and entrepreneurship; from the media to government and in wider society, while harder to quantify, is just as significant.
The sheer volume of start-up activity in the UK is astonishing and support for new businesses stretches to every corner of the country. This country's start-up clusters and thriving business ecosystems are a true national asset which must be protected as fiercely as larger industry.
Global Entrepreneurship Week (GEW) exists to support and grow our shared ecosystem, and to connect it to other likeminded communities overseas.
Today more than10 million people in 165 countries will join with hundreds of thousands of people in the UK to celebrate GEW.  These local, national and global efforts connect entrepreneurs at all stages to potential collaborators, mentors and investors to help them start and scale innovative new businesses.
Together this wide-ranging effort unleashes an estimated £100 million through members and partners of the Global Entrepreneurship Network.
As we move into a period in which we're  warned to expect a 'rollercoaster ride', the importance of remaining open and connected to the world has never been greater for our outward looking small business community
Global Entrepreneurship Week provides a perfect platform for the UK ecosystem to develop crucial skills, connect to the wider world and ensure that we retain our hard won place as one the best places in the world for businesses to flourish and grow.
We''re in the business of starting businesses.